Blackpool tramway from Pleasure Beach to North Pier open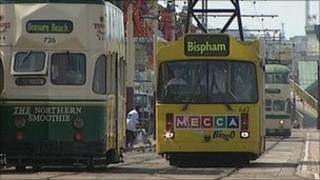 Blackpool's trams have starting running again between the Pleasure Beach and the North Pier.
The tramway had been closed since November, as part of a £100m redevelopment of the service.
People travelling to Bispham, Cleveleys and Fleetwood/ Freeport will need to catch a bus along the promenade.
Further sections of the track, between North Pier and Fisherman's Walk, are due to be reopened as the season progresses, Blackpool Council said.