Brockholes floating wildlife centre opens to public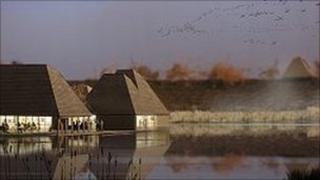 A nature reserve which features a floating visitor centre has opened in Lancashire.
Brockholes, the new Lancashire Wildlife Trust (LWT) wetland near Samlesbury, opened to the public on Easter Sunday.
Facilities include an education centre, shop, play area, conference rooms and restaurant.
The site is home to birds including lapwings, sand martins and kingfishers as well as more vulnerable species such as whimbrels and skylarks.
'Lot of mud'
Lorraine Cheesmur, from LWT, said the site was open but still growing.
"There's still going to be a lot of mud around," she said.
"On Easter Sunday, Brockholes is hatching, we are coming out of our shell and were going to be here, but we're going to be small and we need to clean off a little bit and it's going to take us a little bit of a while to flower into a beautiful swan.
"Come down, have a look and see us at the very very beginning."
The bulk of funding for the centre, about £8.6m, was provided by the North West Development Agency (NWDA) and Forestry Commission.
Funding also came from Natural England, the Tubney Charitable Trust, Lancashire Environmental Fund and public donations.
It is hoped that once the wetland opens to the public it will become a self-funding attraction.