Adam Rogers' parents meet man given his organs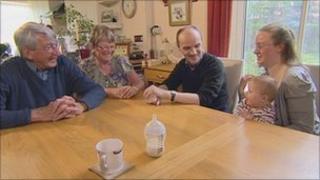 The parents of a 24-year-old man who was killed with a single punch after intervening in a row have met a man who was given some of their son's organs.
Adam Rogers died after he was knocked to the ground in Blackburn, Lancashire on 5 July 2009.
William Upton, 17, from Rishton, was convicted of manslaughter and detained for four years in March 2010.
Mr Rogers' kidneys and pancreas were given to Mark Smith, of Harrogate, who has since fathered a baby girl.
His daughter Emily is now seven months old.
Several other people have also benefited from Mr Rogers' organs.
'New lives'
His parents, David and Pat, gradually built up a relationship with Mr Smith, since his operation in July 2009, culminating in them meeting at their Lancashire home.
Recalling the moment they were told of the extent of their son's injuries, Mrs Rogers said all they wanted to do was turn the clock back.
But then they wanted to find something positive to come out of his death.
"The transplant discussion meant new life - and lives for quite a few people," she said.
"If we had been in a situation where what was wrong with Adam could have been fixed by someone donating, we would have desperately wanted that. We weren't that lucky."
She added: "It is a nice feeling that a little part of Adam is living on and is happy and healthy and well.
"One of the things we really regret for Adam was that he was never able to have children of his own. He would have been a wonderful father."
'Emotional' meeting
Her husband said their son, a football coach, would have wanted his organs to benefit others.
"It helps keep his memory the way we want to remember him," Mr Rogers added. "That side of it is really marvellous."
Mr Smith said he was rushed into theatre so quickly after being told he would receive Mr Rogers' organs, he did not have time to consider the enormity of it, but it hit him later.
"That realisation that you have got someone else's organs, that those haven't come from a live donor... it has actually come from someone who has died - that is a massive emotional thing to deal with."
He added: "I think when we actually met, it just felt particularly natural and there wasn't any anxiety about it at all.
"We just came up and gave each other a hug and that was it."
Mr Rogers urged other young people to sign up to the organ donor register.
"The fact we knew this was what Adam wanted made it a much easier decision," he said.