Blackpool hopes for conference boost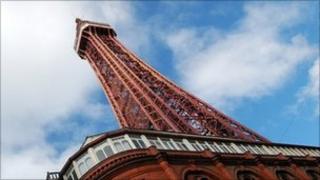 Tourism bosses hope the Labour Party's decision to stage a conference in Blackpool will encourage other political parties to return.
Labour's North West regional conference will be held at the Winter Gardens and Imperial Hotel in November.
The last major conference in Blackpool was in 2007, when the Conservatives came to the resort.
Tourism firm Visit Blackpool hopes the presence of senior figures will entice back "traditional party gatherings".
Last week, the the Usdaw union visited the resort for its national conference, which was attended by shadow chancellor Ed Balls.
'Conference boost'
The Labour Party is predicting its biggest ever regional conference, with up to 1,000 delegates expected in Blackpool.
Louise Baldock, chair of Labour North West's Regional Board, said: "We're delighted to be taking our regional conference to Blackpool.
"We have had many happy conferences in the past in Blackpool and it's exciting to be coming back with both old friends and a new generation of members."
Mandy Tythe-McCallum, business tourism manager for Visit Blackpool, described the decision as a boost to the resort's efforts to "regain its position as one of the UK's top destinations for political conferences".
"It's great that we are back on the political conference map and that our strategy to try and secure both new and lapsed events is starting to have a real impact," she added.