Unidentified body found on Blackpool beach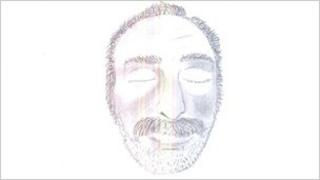 Mystery surrounds the identity of a man whose body was found washed up on a beach in Blackpool.
The man, described as white and aged between 45 and 55, was found near Queens Promenade, Bispham, on 11 April.
Lancashire Police said he may not be from Blackpool as nobody matching his description has been reported missing.
Although the death is not believed to be suspicious, police would like the public to help identify him.
He was found wearing a distinctive white necklace with three St Christopher pendants attached to it.
Police described the man as being about 5ft 11in (1.8m) tall with grey hair and a ginger and grey moustache.