Lancashire Police at 'full stretch' says federation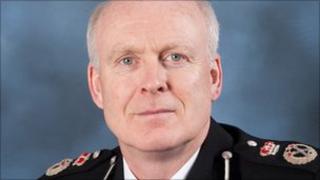 Police Federation leaders in Lancashire have criticised their chief constable's rallying call to work harder.
Steve Finnigan urged officers to make a greater effort as the force faces cuts of £42m over four years.
The savings will lead to the loss of 500 police officers and 300 civilian staff.
Lancashire Police Federation has said its members are "stretched to the limit."
John O'Reilly, chairman of the Lancashire Police Federation, said: "The chief constable is asking us to work harder but our response is that we can't because we are down to the bone.
"We are working at 100% and no one can give any more than that.
"Talking to our officers across the county they all say the same thing - they can't work any harder than they are doing right now."
Deputy Chief Constable Chris Weigh said: "I understand completely why the federation is concerned about the cutbacks, and the potential impact, as it sees it, on the public of Lancashire and, of course, about the effect on its members.
"The public would expect our staff to work hard and our challenge is to find new ways of delivering a service which, for some people may need them to work in different ways, and for others to work harder - I don't think that is too much to ask."