Darwen Vale High School meeting over behaviour policy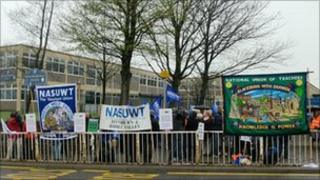 Teachers who staged a strike at a Lancashire school over what they claim is "poor management" are to meet its head teacher later.
Staff at Darwen Vale High School in Darwen claim they lack management support over pupils' bad behaviour.
Unions said the Easter holiday and subsequent bank holidays meant this was the first opportunity for the two sides to meet since the strike on 7 April.
The school said it was working on a new behaviour management policy.
About 70 teachers took part in the strike at the 1,100-pupil school during the one-day walkout.
'Reassure parents'
Unions claim that pupils have physically and verbally abused staff, filmed lessons on mobile phones and threatened to post them online.
There have also been allegations of cyber bullying and pornography use.
Avis Gilmore, secretary of Lancashire National Union of Teachers (NUT), said: "We need a clear policy on dealing with behaviour where staff and pupils know that there are boundaries and if those boundaries are breached then there are clear sanctions.
"Depending on how the meeting goes we will talk to members and decide what to do next and that could include another day of strike action.
"The teaching staff are committed to the school."
Members of the National Association of Schoolteachers/Union of Women Teachers (NASUWT) also took part in the strike.
In a statement on the school website, head teacher Hilary Torpey said: "A number of actions are being worked on, including a new behaviour management policy, so that there are clear guidelines in place for all staff going forward at this site and at the new school.
"We would like to reassure parents that the school is and continues to be a good school and that sentiment has been reinforced by many positive comments and feedback that I have personally received from visitors, our pupils and parents."
Darwen Vale High School is being rebuilt under the Building Schools for the Future programme and is due to open in September 2012.
Pupils are being taught temporarily at former Holden Fold school buildings.