Daughter revived by Lancaster mother's first aid skills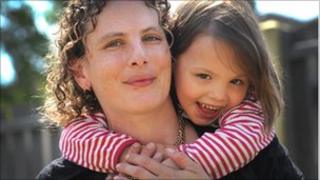 A Lancashire woman who had just about to complete a first aid course has spoken about suddenly finding herself using her skills to resuscitate her daughter.
Sonya Hall's three-year-old Tilly was play fighting with her brother when she fell and banged her head.
"Tilly was face down and shaking, she was blue in the face and had stopped breathing," said the 33-year-old mother.
During previous weeks she had been on a parents' first aid course at Lune Park Children's Centre in Lancaster, and it was those new skills that provided the vital care.
Blood supply
"As I was in shock, I immediately went into panic mode but then realised the first aid course I had just completed the day before was still fresh in my mind," said Ms Hall.
"I laid her down and I started to give her CPR, mouth-to-mouth and chest compressions.
"Her body went stiff so I repeated the CPR. She eventually came round and started breathing. I also rang for an ambulance. The paramedics arrived within minutes."
This all happened in March, but her daughter reacted in a similar way again weeks later. It was then that Mrs Hall found that her young daughter was susceptible to having seizures.
"Tilly was diagnosed with reflex anoxic seizure, which is a type of seizure triggered off by a temporary cutting off of the blood supply to the brain," she said.
"The seizure can be induced by any unexpected stimuli such as pain, fear or fright. This causes the heart to stop or slow down dramatically, which in turn reduces the flow of blood to the brain.
"The child goes limp, falls down and becomes very pale. The body may stiffen and there may be jerking movements of the arms and legs."
The Empowering Parents First Aid course, where Mrs Hall learnt her life-saving skills, is run by Lancashire Adult Learning.
"The course has made a huge impact on my life. The most inspiring part of the course was the first aid.
"So many people are frightened to learn first aid and think that they won't be able to do it in a crisis," she added.