Fylde friends groups' boost to park projects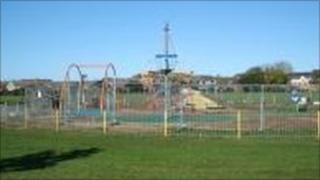 Parks in Lancashire have been spruced up by improvement projects which a council has admitted would "not have got off the ground" without the help from local residents.
Two parks in Fylde are about to unveil their new look after community friends groups raised a total of £425,000 to pay for improvements.
Both parks have new rides, replacing tired play equipment, after "instrumental" work by volunteers.
The Friends of Waddington Road Park in St Annes put £190,000 towards their project after tapping into various funding streams.
Their new facilities open on Saturday. Their drive to improve their local amenities has enabled them to buy some modern pieces of play equipment.
Improvements include an interactive, computerised metal frame allowing children to play competitively with youngsters on similar frames elsewhere in England.
There are also revamped play and wildlife areas.
'Community needs'
Kirkham Memorial Gardens will be reopened on 19 May with new facilities bought with £235,000 raised by its friends group.
Fylde Council said the value of friends groups could not be underestimated, and both park projects may not have happened without their involvement.
Andy Moss, project manager for the council's leisure services department, said: "Without them the projects would not have got off the ground.
"They're instrumental in finding out what people need.
"Organisations which provide grant funding are looking to deal directly with what communities need, and want to respond to that rather than what other people think communities need."
He added that Waddington Road Park had not been fulfilling the needs of the community and needed upgrading.
Even though it was well maintained, it was looking tired and old-fashioned. Some of the original play equipment had been taken out for safety reasons.
'Hard slog'
Keith Hyde, secretary of the Waddington Friends group and a former councillor, said: "The park is used more now than ever. It's the way forward using friends groups, the council could not have got the money all by itself.
"It's been a hard slog to get it started and I am now trying to get the £400,000 needed to transform our Hope Street park site."
The friends also encouraged children from Clifton Primary School to plant bulbs at Waddington Park and sharing in the design ideas.
The council said it would continue its partnership with community groups, especially on planning and legal matters.
Work is expected to begin soon on Mornington Meadow in Lytham, which is to benefit from a £194,000 programme of improvements.
The project has been driven by the thoughts and needs of a volunteer group in its local community.