Burnley teenage litter pair told to 'clear up'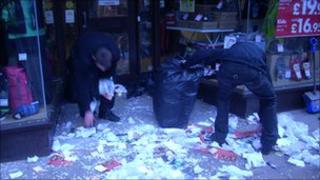 Two teenagers who emptied binbags of rubbish in a Lancashire town centre were escorted back to their litter and ordered to clean it up, police said.
The 16-year-old boys were spotted throwing shredded waste on Parker lane, Burnley, by a CCTV operator.
A police community support officer (PCSO) handed them binbags and ordered them to clear up the mess.
PCSO Dave Johnson said it would help them understand the "consequences of their behaviour".