'Pay tax where it is earned' urge Baptists in Blackpool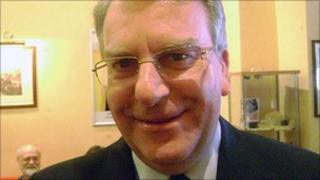 Tax avoidance strategies used by some multi-national companies working in the developing world have been described as "morally illegal" by a leading Baptist.
The claims were made by Malcolm Broad, treasurer of the Baptist Union, speaking at the Baptist Assembly in Blackpool.
"About 60% of all multi-national companies use off-shore tax havens," he said.
"It creates a world imbalance between the haves and the have-nots."
The assembly overwhelming agreed with a resolution calling for tax to be paid where it has been earned.
Malcolm Broad agreed reducing revenue demands by moving money to a more favourable tax regime is not illegal, but he says it can have devastating effects on those countries who don't receive their full quota.
He told BBC Radio Lancashire: "Nobody wants to pay tax, but the taxes are used to pay for the likes of hospitals and education. If tax is avoided where that need is great, then all that does is keep those countries poorer than they are today."
More jobs
He denied that by calling for many British companies to alter their tax arrangements he was endangering jobs in the developing world: "Yes, the people are being employed but at very low wages. The countries are being kept poor because the taxation isn't there for companies to use."
Mr Broad claims that changing the system would result in more jobs: "By altering the infrastructure in these countries international trade would prosper greater than it does today."
He also says it is important for the Baptist church to speak out in this way: "I think all Christians should be concerned. We are part of an international movement and other Christian organisations are also furthering this campaign to our national government."
Indeed the assembly also heard calls for the movement to become more politically active.
Graham Sparks, Head of the Faith and Unity Department at the Baptist Union, refuted any suggestion that the assembly should stay out of politics. "Read the bible!" he exclaimed.
"The bible is all about politics. It's about issues of justice and inclusion. All these things are fundamental to what we believe as Christians."
"We believe politics is right at the heart of what faith is about."
Joe Wilson presents the faith programme on BBC Radio Lancashire from 6am each Sunday.