Lancashire beaches fail sewage levels test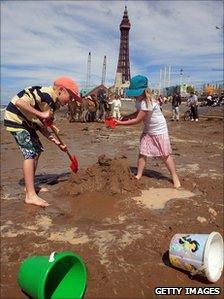 Seven popular bathing beaches in Lancashire have failed the annual test for water quality.
Blackpool, Morecambe and Heysham were among ten in the North West that fell short of minimum standards, said the Marine Conservation Society (MCS).
Its 2011 Good Beach Guide said diluted sewage was being discharged too often into coastal waters.
The Environment Agency said bathing water had improved in the past 20 years but admitted there was "more to do".
MCS graded 758 beaches around the UK and the Channel Islands, with the cleanest spots given the "recommended" status.
Top marks were given to just five of the region's 39 beaches: Formby on Merseyside; New Brighton, Moreton and Meols in Wirral; and Silecroft in Cumbria.
However, the society said the North West was "the worst performing region in England" overall.
Ten beaches failed the minimum European standard for water quality compared to four last year (see table).
MCS spokesman Dr Robert Keirle said overflow pipes that pump sewage into rivers and the sea were being over-used.
"These are meant to be used in times of extreme emergency and the Environment Agency states that they should only spill no more than three times per bathing season," he said.
"But we do have data that show that, in some instances, the combined sewage overflows are discharging dilute sewage into the environment dozens, if not hundreds of times per year."
The Environment Agency is responsible for monitoring water quality and keeping British waters clean.
Elaine Fisher, of the Environment Agency, insisted bathing water had improved significantly over the past 20 years following huge investment in the sewage system.
"We've tackled all the obvious sources of pollution," she said.
"In Blackpool in the 1990s, the whole front was dug up to to put in a tunnel to take all the sewage to get treated at Fleetwood.
"Now we have to tackle all the smaller sources of pollution that, when they are added up, can still impact on our bathing waters."
From 2015 onwards, Europe's beaches will be classified according to new, stricter bathing water standards set down by the Bathing Water Directive.
If beaches consistently fail to meet minimum standards, MCS said it could force beaches to display a sign advising bathers to stay out of the water, which could damage tourism.
Related Internet Links
The BBC is not responsible for the content of external sites.