Preston student knits RTS award-winning animation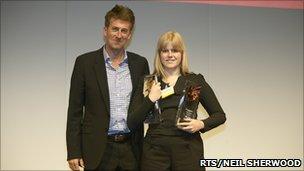 Clangers creator Oliver Postgate, stars of the silent screen and her grandmother were the inspiration behind a Preston student's knitted animation, which has won a prestigious Royal Television Society (RTS) award.
Charlotte Blacker created "The Little Red Plane" for the final part of her dissertation at the University of Central Lancashire (UCLan).
The stop-motion film is a knitted adventure about a boy and his cat who travel far and wide to deliver parcels in their little red plane.
It scooped the RTS's undergraduate animation award beating entries from students across the UK.
The 22-year-old, from Wakefield in West Yorkshire who graduated with a First in BA (Hons) Animation, received her award at the National Media Museum in Bradford from the Director of BBC North, Peter Salmon.
She said she was "completely shocked" to beat the other candidates and get the award.
"When everyone else went up for their awards a lot had prepared a speech, I didn't honestly think I was going to get it, so when they called my name I went on stage and I can't remember what I said, my mind went blank," she admitted.
Ms Blacker's grandmother Joyce taught her to knit when she was seven and the idea for her animation was a flash of inspiration, she said.
"I was completely stuck, everyone else seemed to be knuckling down with their ideas, I had a blank sketch book in front of me.
"I've always used knitting as a way of calming myself down, so I thought I'd knit myself a scarf and an idea will come to me.
"While I was doing that I thought wouldn't it look great, a world created in knitting?" she said.
From the moment she cast on, her needles did not stop and with the help of her grandmother, mother and sister Holly, huge knitted blankets and 12 inch (30cm) high characters came to life.
"The blankets were turned into rolling hills and dales, a big vast blue blanket for the sea and sky," Ms Blacker said.
A friend who works in a charity shop managed to get her a "good deal on a bin liner of odd balls of wool".
Knitting became an obsession for the animator, and her hands ached so much she could not hold a pen properly when she had completed her woollen props and scenery.
As there was no speech in her knitted animation the narrative had to be strong and self-explanatory, so she looked to the early days of cinema for inspiration.
"I decided to look into silent movies, like Buster Keaton and Charlie Chaplin, to see how they expressed themselves without words and to get movements right, to speak through the body rather than the mouth," the award-winning animator said.
As well as silent film greats, the man who created some of Britain's most popular children's television programmes like The Clangers also inspired the Lancashire-based animator. She read Oliver Postgate's autobiography while she was filming.
The characters now have pride of place at the university and Ms Blacker is due to return to Preston to start a masters degree in animation in September.
"The resources at the university are amazing, if it wasn't for them I wouldn't have achieved what I have," she said.
Hopeful of following in the footsteps of Preston-born animator Nick Park - famous for his Wallace and Gromit and Creature Comforts animations - Ms Blacker secured an extended work placement with London-based Loose Moose Animations. There she works on her own projects and assists on other productions.
Glenda Brindle, from UCLan's School of Art, Design and Performance, described the award was a "fantastic achievement for Charlotte to be crowned best undergraduate animation student in the country".
The jury of the national RTS praised her work describing it as a "beautifully crafted film that achieves its goal of entertaining a pre-school audience. The use of knitting was inspired! A fully rounded film that excels in design, pace, editing and storytelling."
"It's going to be hard to break through, make your mark, you have to persist with things," Ms Blacker added. But with the RTS award success for her "Little Red Plane", her animation career looks ready to take off.
Related Internet Links
The BBC is not responsible for the content of external sites.