Blackpool EDL and anti-fascist demos 'pass peacefully'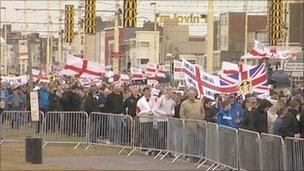 Protests by the English Defence League (EDL) and Unite Against Fascism (UAF) groups in Blackpool were "relatively incident free", police have said.
About 1,500 people attended the EDL rally at South Pier while a further 50 people attended the UAF event at Central Pier, police estimated.
Officers from three other forces were brought in to bolster police numbers after trouble at past protests.
Ten men were arrested for a variety of offences, including public order.
The demonstrations were held at lunchtime and police said crowds had begun dispersing at about 1330 BST.
Day-to-day policing carried on as normal in the resort while specially-trained officers - including some from Merseyside, Cumbria and West Yorkshire - monitored the protests.
Among the 10 arrested were three men from Merseyside - aged 27, 35 and 37 - who were detained on suspicion of being drunk and disorderly in a public place, along with a 26-year-old man from Bury St Edmunds, Suffolk.
A 29-year-old man, from Blackburn, and a 36-year-old man, from Darwen, were arrested by British Transport Police for public order offences.
A 21-year-old man from Gateshead was arrested on suspicion of possession of an offensive weapon.
Divisional Commander Richard Debicki said: "We are pleased that the protest has passed off peacefully and we are satisfied that we were able to give both sides the right to demonstrate and to ensure that it was business as usual for the resort.
"We would like to pass on our thanks to businesses and members of the public for their support and co-operation.
"Many officers will now remain in the resort over the bank holiday weekend to help reassure local businesses and communities."
Related Internet Links
The BBC is not responsible for the content of external sites.