Leyland boy given Rolls Royce for raffle prize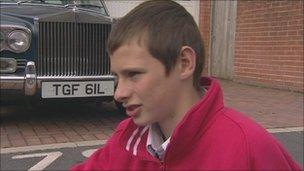 A 15-year-old boy who appealed for raffle prizes was offered a vintage Rolls Royce worth up to £14,000.
Nathaniel McMaster, from Buckshaw Village, Leyland, Lancashire, is raising money for Help for Heroes.
He was at a car boot sale when a stranger offered him his 1972 Rolls Royce Silver Shadow Mark One as the top prize for his raffle.
Nathaniel has sold 3,000 tickets for the raffle, which is to be drawn at the Chipping Steam Fair on Monday.
The teenager said he was "shocked but pleased" when he was offered the prize.
Speaking about his support for Help for Heroes, he said: "It's been an inspiration since I was about 10.
"I believe in my country, I just want to help out my country really and bring countries to peace."
He praised the generosity of the owner of the car for giving him the car, which has 80,000 miles on the clock, as a prize.
"It just goes to show that he is a nice man, that he wants to help the heroes and he believes in his country as well," he said.
Nathaniel's mother, Diane, 39, said: "I was like oh yes, that would be great, I'd come up with all these good ideas in my head and then I got home and I thought, are you sure? Did I hear him right? And I had to phone him and ask him again."
Related Internet Links
The BBC is not responsible for the content of external sites.