Blackburn with Darwen Council staff take unpaid day off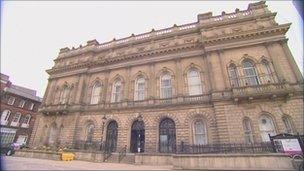 Staff at Blackburn with Darwen Council are taking the first of a series of 12 unpaid leave days over three years to help the authority save money.
Workers are taking the leave on Tuesday as part of a £1m savings plan.
Both Blackburn and Darwen Town Halls will be closed along with children's centres and all libraries.
The council apologised for the closures but said leisure centres, markets, cemeteries, bin collections and community transport will work normally.
Councillors agreed in March to allow workers to take unpaid leave, a move union officials say has saved 50 to 100 jobs.
Gareth Roscoe, representative for the trade union Unison, said: "It's not just about saving jobs because apart from the four days a year, those 50 to 100 people are still available to deliver the services to the people of the borough."
Council leader Kate Hollern said: "Staff have agreed to take unpaid leave as part of the £33m savings needed this financial year.
"The days have been attached to bank holidays for extra savings as main council buildings will close on those days."
Related Internet Links
The BBC is not responsible for the content of external sites.