Sperm freezing should be funded by MoD: Injured soldier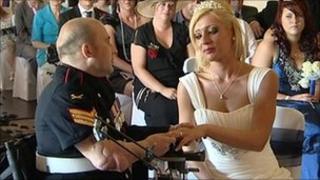 A soldier who was maimed serving in Afghanistan has called on the Ministry of Defence to pay for soldiers to freeze their sperm before combat duty.
Sgt Rick Clement, from Blackpool, who was married at the weekend, lost both of his legs in a roadside bomb.
Because of his injuries he and his wife Leanne will never be able to conceive a baby.
The Ministry of Defence said it was up to commanding officers to inform soldiers of sperm preservation.
Mr Clement said the MoD was now informing soldiers about sperm freezing before they embarked on a tour of duty to a combat zone.
He added: "Although they are not going to pay for it as yet, at least the guys who go over there will have that choice that I and others didn't have before."
Officers' duty
An MoD statement said it did not fund "pre-deployment fertility preservation".
It also stated that officers are responsible for making service personnel aware of the issue of fertility preservation at the earliest opportunity "as they may wish to discuss the issue with their spouses or partners".
The MoD added: "However, for those service personnel injured on operations, procedures to preserve sexual and reproductive function have been developed and are available.
"Specifically, when deemed appropriate, access to NHS-funded 'sperm harvesting' and storage is offered and this process will continue to be funded by the MOD."