Traffic lights in Blackburn switched off to ease delays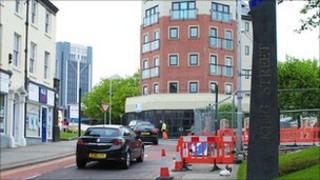 Traffic lights across a Lancashire town centre are being switched off to cut delays for drivers.
Sets of lights on Eanam, Penny Street, Ainsworth Street, Mincing Lane and King Street in Blackburn are currently off as redevelopment plans take shape.
Some switch offs are permanent as part of a change to the road network to cut traffic in the town centre.
Blackburn with Darwen Borough Council said the changes were to get the "best flow of traffic through the town".
"Traffic lights are sometimes there for historical purposes, and the amount of traffic isn't as great as it used to be because there's an alternative route," said Councillor Dave Harling, executive member for regeneration at Blackburn with Darwen Borough Council.
The changes are part of the council's overhaul of the town centre traffic network encouraging drivers to use the orbital route around Blackburn.
At the bottom of Ainsworth Street and Railway Road, the lights are temporarily off because of underground works by the new market.
Mr Harling said King Street will eventually become two-way, so the traffic lights will not be needed.
"Taking those lights out now is part of people getting used to the fact that they are disappearing," he said.
Mr Harling said the situation would be monitored to see if any further changes were needed.