Closed Blackpool promenade road to reopen next week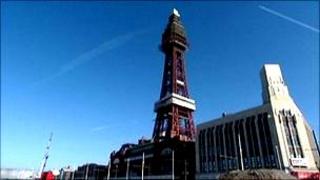 Part of Blackpool Promenade which has been closed to traffic since March, as part of regeneration work, is due to reopen next week.
It is hoped the seafront road, in front of Blackpool Tower, will open on Tuesday, the council has said.
Businesses hope to benefit from the promenade's improvements, which are costing an estimated £250m.
The road had been closed between Gynn Square and Chapel Street, but that has since reopened to southbound traffic.
The central seafront is undergoing a multi million-pound makeover, with work to improve sea defences and tramways also being carried out.
The resort's famous tower is also in the middle of a revamp, which is due to be completed in the Autumn.