Darwen Vale 'bad behaviour' school strike dispute over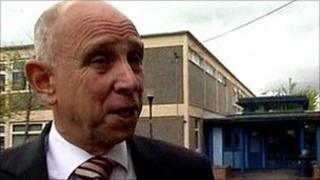 Teachers who went on strike over pupil behaviour at a school in Lancashire have agreed to end their dispute.
An interim head teacher was appointed at Darwen Vale High School after staff walked out complaining of lack of support in tackling problem pupils.
Now with the previous disciplinary policy reintroduced, unions have called off the threat of future strikes.
Unions the National Union of Teachers (NUT) and NASUWT both said they were pleased the dispute had ended.
About 70 teachers took part in the strike at the 1,100-pupil school in Holden Fold, Darwen, during a one-day walkout on 7 April.
Strict implementation
Unions claimed pupils had physically and verbally abused staff and filmed lessons on mobile phones and threatened to post them online.
The previous disciplinary policy - now back - includes tougher controls on the use of mobile phones and a committee to review procedures.
Blackburn with Darwen Council said the "strict implementation" of the policy was going well.
John Girdley, of the NASUWT, said: "It's good news that the unrest of recent weeks has been resolved and we welcome the stability that the new interim head teachers have brought to the school during what has been a difficult time.
Blackburn with Darwen's NUT representative, Simon Jones, added: "We are delighted with the progress that has been made and are pleased to declare a formal end to this dispute."
Interim head John Lawson was appointed when head teacher Hilary Torpey was suspended after the strike.
He said: "The young people at Darwen Vale are very special and we are confident that there is a bright future for the school.
"We have smiles all round at the school."