Museum for Spinning Jenny inventor James Hargreaves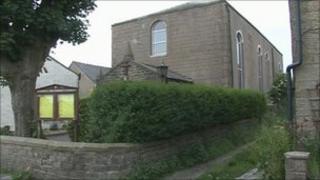 A museum to honour the work of one of the key inventors from the industrial revolution is being planned for a Lancashire village.
Artefacts and information about James Hargreaves who invented the Spinning Jenny in 1764 will be curated at Stanhill Village's Methodist Chapel.
Hargreaves lived in the village when he made the machine that enabled eight threads to be spun at once.
It signalled the beginning of mass production and factory working.
'On the map'
The Methodist Church has offered the use of its chapel to house the museum, which will also tell the story of the Methodist movement.
The Spinning Jenny is said to have been named after Hargreaves' daughter, who was using a traditional single spinning wheel when her father came up with the idea that the wheel could power the spinning of eight threads instead of one.
Richard Hooper of Stanhill Village Residents' Association said: "Stanhill Village is probably one of the birthplaces of the industrial revolution and we want to show that Hargreaves actually lived here and we want to put the village on the map."
He said that the museum could be open to the public within three years and appealed for anyone with items or photographs of the village in bygone years to contact him through the chapel.