Blackburn neglect charge couple 'tried to switch twins'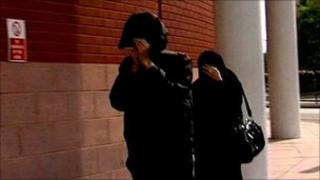 A Lancashire couple accused of neglecting one of their twin daughters tried to switch the children's identities, a court heard.
The court was told the switch took place in the weeks leading up to the death of their seven-month-old baby on 15 June 2009.
Mohammed Karolia, 29, and Nafisa Karolia, 22, of Meadow Close, Blackburn, each deny child neglect.
The case resumes at Preston Crown Court on Thursday.
The baby was rushed to hospital after her parents reported she had breathing difficulties and was pronounced dead shortly after.
Jurors heard the couple told medics at Royal Blackburn Hospital she was the healthier and smaller of their two identical twins before they allegedly later switched to naming her sibling on the death certificate.
Preston Crown Court was told the defendants made a deliberate attempt to hide the ailing twin from the outside world in the weeks leading up to her death, including tricking a social worker into believing she was examining the twin who later died.
'Discrepancies discovered'
The victim, identified only as Girl M for legal reasons, had suffered numerous injuries, including fractures to the ribs, legs and arms, and skull damage affecting the brain and central nervous system.
She also had a mouth ulcer, unexplained scratching to the ears, injuries to the nose and bleeding in the eyes.
The breakages of the bones were said to have taken place between 24 hours and six weeks before death, while a post-mortem examination found the girl died of bronchopneumonia.
Joe Boyd, prosecuting, said the identity swap was uncovered by discrepancies in the head, weight and height measurements previously taken from Girl M and her sister, Girl A.
'Runny nose'
"Growth charts for both twins make it clear that the parents have at some stage swapped the babies. They have very probably done so to seek to conceal the mounting injuries being suffered by the child who died - always the bigger twin but, for some reason, rejected and abused by them," he said.
"These parents have never provided a plausible explanation to the hospital staff or police as to the injuries of this baby."
Mr Boyd said two neighbours of the defendants told police that they had only ever seen the Karolias with one baby and there was nothing to indicate they had young twins.
When interviewed by police Mrs Karolia said she noticed nothing unusual about her daughter apart from a runny nose.
She also told detectives she was doing a course on childhood studies as she wanted "to do something with kids at a later stage".
Her taxi driver husband told officers his wife was the principal carer of the twins and he too identified no problems aside from a runny nose, the court heard.