Cleveleys blind tenpin bowler's fundraising appeal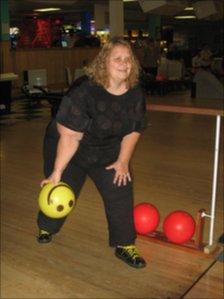 A blind tenpin bowling player from Lancashire, who was picked to represent the UK at the World Blind Tenpin Bowling Championships in Malaysia, fears she will not have enough money to make the journey.
Natalie Shaw said the money she was having to spend her fundraising money on travelling to training facilities.
Ms Shaw, from Cleveleys, is part of a six-strong team looking to compete in the International Blind Sports Federation (IBSF) games in Kuala Lumpar in October.
However, the team is uncertain if it will make it as it needs to raise £14,000 to pay for travel, accommodation and kit.
Mrs Shaw does not have a local tenpin bowling centre and has to travel to Preston to train - a round trip of 40 miles via bus, train and taxi, costing £25 each time.
She said this was eating into the £2,500 she was trying to raise to get to the championships.
She said she had written letters to hundreds of businesses and done street collections but still needed to raise another £1,500.
Blind tenpin bowlers use a special handrail so they canj tell which position they are in in the bowling lane.
"I can hear the pins go down and how many, but someone needs to tell me which ones," she said.
"Hopefully there's someone out there, maybe the person who won the Euromillions lottery who can help us get to the competition," she said.
She has been bowling with her husband and daughter, who also have reduced sight, for about five years.
Related Internet Links
The BBC is not responsible for the content of external sites.