BBC Radio Lancashire at the Great Eccleston Show 2011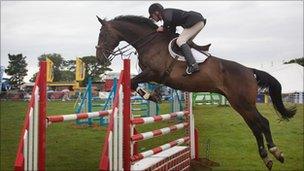 There's something for everyone at the Great Eccleston Agricultural Show - including BBC Radio Lancashire!
Alongside the sheep, goats and cattle, you'll find BBC Radio Lancashire.
We're based in the Rural Life Tent with two days of demonstrations and events for you on 16 and 17 July... from urban beekeeping to modern art.
You'll be able to meet the people behind the voices of those personalities you hear each and every day.
On Saturday 16 July at 1330 BST, there's a special question and answer session with Sally Naden and guests Graham Liver, Steve Royle and managing editor John Clayton.
On Sunday 17 July at 1400 BST, there's a special gardeners' question time with Stephen Lowe.
And tune in throughout the weekend for live updates from the showground.
Related Internet Links
The BBC is not responsible for the content of external sites.