London 2012 Olympic Games inspiring Lancastrians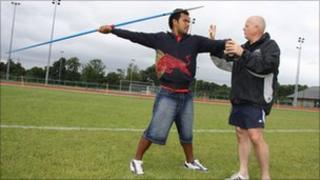 For Lancastrians the London Olympic and Paralympic Games are not the only big events on the 2012 calendar.
The county is also playing host to golf's Open Championship at Royal Lytham & St Annes, there are elite cycling events including the opening of the £4m Guild Wheel cycle route around Preston and Blackpool Dance Festival.
There will also be the Preston Guild - an event only held every 20 years.
But the Olympic Games are already having an impact on life in the county, even though they are still a year away.
The University of Central Lancashire (UCLan) has been chosen as a training venue for Oceania athletes, including some from Fiji, Samoa and Tonga.
Last year Fijian javelin thrower Leslie Copeland and his coach James Goulding spent five weeks training at UCLan's sport arena.
He is set to return later in the year to be coached by UCLan lecturer John Trower who was the coach of former javelin world record holder Steve Backley.
'Helped recovery'
At the time Mr Copeland said the impressive standards of the university's facilities and trainers helped give him "the edge over other athletes".
At a more grassroots level a group of ladies who are all over the age of 50 are training to take part in a marathon in 2012 - and they are using the Olympics to motivate them.
Tricia Ellis has been a runner for almost 27 years on and off but has never run a marathon. She thought it would be more fun if she trained a group of Blackpool ladies all over 50 years who had never run before. They have called themselves the "Goal-den Girls".
"It's a group of about 30 ladies who come from all walks of life, a GP, lawyer, businesswoman, managers and retired. We started training last October," she said.
"Two ladies are recovering from breast cancer and said the group has helped with their recovery. One lady lost her husband to cancer just as we started the training and said without the group she has no idea how she could have coped.
"Once we put on our trainers we are all equal. I can't begin to tell you how wonderful these people are."
To inspire them to keep up their fitness regime they are visiting the Olympic Stadium next week and fundraising for Blackpool causes.
Blackpool Council also has a number of Olympic based events taking place ahead of the Olympic torch visiting the town in June as part of its 70-day tour ahead of the UK Games.
A special event will be held on the new festival headland outside the tower to welcome it. Last month 3,000 young people took part in the Blackpool Youth Games, and even more are expected to take part when it takes place again in 2012.
There is also a programme called Sporting Champions where paralympian Shelley Woods works with local children to try to inspire Olympic champions of the future.
The council also has a scheme called Future Olympians where local athletes, for example paralympic cyclist Terry Burns, can use sporting facilities to get them ready for the future.