Seychelles tourism chief's shark attack warnings admission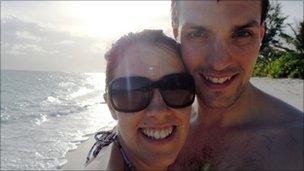 The authorities in the Seychelles where British honeymooner Ian Redmond died in a shark attack, have said that more could have been done to warn tourists.
The 30-year-old from Lancashire was the second bather to be killed within a month in waters off Praslin.
Mr Redmond, an IT specialist from Nelson had wed primary school teacher Gemma Houghton, 10 days earlier.
The Seychelles' tourism director said that "maybe we should have closed the beach in hindsight".
Mr Redmond, who according to his 27-year-old wife, had laughed off the possibility of a shark attack, was snorkelling off Anse Lazio beach when he was fatally bitten.
Alain St Ange, the director of Seychelles Tourism Board, said: "The beach was manned by police. They tried to get as many people as possible to say: 'please don't go into the sea or stay at knee-depth', where the sharks would not be.
"There are no signs, but we had two policemen on the beach.
"I don't want to have the dilemma of having to explain why Ian was not warned - or was he warned?
"But we did try. Maybe not enough. Maybe we should have done more"
Government officials have issued a ban on swimming in certain areas until the killer shark is captured and have called in the Navy and the coastguard to help catch the shark.
Related Internet Links
The BBC is not responsible for the content of external sites.