Chorley clamps down on 'chugger' fundraising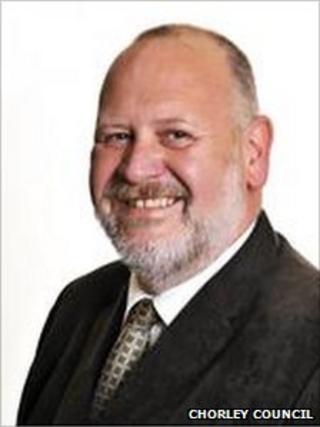 A Lancashire council has taken steps to restrict the activity of street charity fundraisers after complaints from shoppers and traders.
Chorley Council has joined the Public Funding Regulatory Association (PFRA) to help regulate "chuggers" in the town centre.
Councillor Alan Cullens said small charities were also feeling "squeezed" out by the larger charities.
Collecting will be restricted on market days - Tuesday and Saturday.
"We want to ensure we have some control over charities who collect in town," Mr Cullens said.
'Good balance'
"What appears to be happening is that smaller charities feel squeezed out as larger ones use aggressive sales tactics to get people to sign up to direct debits."
He said the agreement the council had signed means they can regulate how charities operate and what days they collect.
The changes mean that collectors cannot stand on street corners and block passing shoppers, they should operate in pairs, and no more than six can be in the town centre at one time.
"We're trying to get a good balance between national charities and local ones, who are quite often the quiet ones who just stand there waiting for a donation," he said.
He also cited an instance where he had been walking along Market Street in Manchester city centre where he felt pressured into donating after being approached four times in an hour.
Mr Cullens said he appreciated that many "chuggers" were young people who were trying to earn money and felt pressured because of working to tight funding scales.