Jane Clough card offers organ donor and grief advice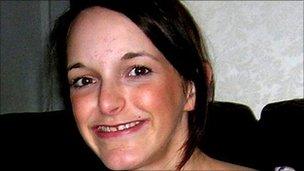 A bereavement advice card with the face of murder victim Jane Clough is to be handed to relatives of anyone in Preston who dies suddenly.
Lancashire Police promised to improve its procedures after an error denied Ms Clough's wish to be an organ donor.
The cards, distributed by police officers, will offer information about organ donation.
The scheme is a joint initiative between the police, the local NHS trust and the coroner.
If the pilot is successful, it is hoped it will be extended across the county to other NHS trusts.
Det Supt Neil Esseen, of Lancashire police's major investigation team, said: "Losing a loved one is always distressing, but it can be particularly so if you are unsure where to turn for support and feel that your relative's wishes are not being met."
The cards carry information about bereavement support services from the Lancashire Teaching Hospitals NHS Foundation Trust.
They will be offered to people whose relatives have died suddenly both in suspicious and non-suspicious circumstances.
Lancashire Police said: "Previously, opportunities to provide relatives with specialist support, or to honour any wishes in relation to organ or tissue donation, may have been missed."
In the case of organ donation, the final decision rests with the coroner but the family's wishes are considered.
Ms Clough, 26, was stabbed to death outside Blackpool Victoria Hospital by her ex-partner Jonathan Vass in 2010.
Vass was jailed for life last October. He had been on bail, on charges of raping Ms Clough, when he murdered her.
Her parents Penny and John Clough said they were told by police that organ donation could not be allowed in their daughter's case as it would affect the suspect's right to demand a second post-mortem examination.
Police said Ms Clough's death did not prompt the scheme but that it had influenced the thinking of the parties involved in setting it up.
Helen Bradley, bereavement and donation co-ordinator at the hospital trust, said: "Her mum and dad have been keen to promote the fact that if you die in circumstances such as Jane did that you should still be allowed to consider the option of donation... and still be privy to the same bereavement support that you would get if the death had occurred in the hospital."
Related Internet Links
The BBC is not responsible for the content of external sites.