Fylde coast dune litter-pickers improve seaside habitat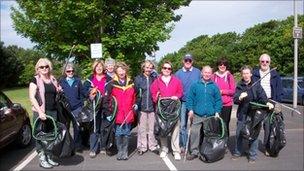 A special wildlife habitat has developed on Lancashire's Fylde coast thanks to the hard work of volunteers.
The Fairhaven Coastal Care Group meets each week to pick up litter which gets washed up on the beach, from Fairhaven Lake to Beach Terrace Cafe.
Removing litter while leaving the natural tidal debris means plant life has been able to establish itself, the Lancashire Wildlife Trust said.
Machines used to be used to clean the area, disturbing seeds and young roots.
"With the tidal debris left and the litter removed by hand we can have both litter-free beaches and our unique coastal wildlife," said Annie Ancell, from the trust.
She hopes to see a chain of similar groups set up along the coast, removing rubbish and giving nature a helping hand.
The vegetation, known as coastal vegetated shingle, is a nationally declining habitat and a priority for conservation.
The plants which grow in this environment are specially adapted to cope with high levels of salt and low levels of nutrients.
Ms Ancell added that the group's hard work had made a huge difference to the wildlife in the area between Lytham and St Annes.
"The display of sea holly plants is absolutely fantastic now. Everyone's benefited, from the bees and butterflies to the local community, from group members to tourists.
"Tidal debris is often viewed as unsightly. However at Fairhaven, we've shown how quickly it becomes taken over by nature and how beautiful flowers add additional interest to an already wonderful landscape."
She also highlighted the health benefits for volunteers working outdoors.
Fairhaven Coastal Care Group meets at St Paul's Car Park each Wednesday at 10am.
Related Internet Links
The BBC is not responsible for the content of external sites.