Duke of Lancaster's Regiment to receive freedom of West Lancashire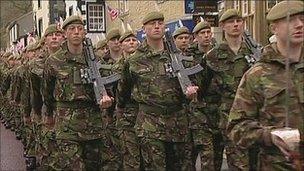 Members of the Duke of Lancaster's Regiment are to receive the freedom of the borough of West Lancashire.
To mark the honour, Mayor Rob Bailey will present a ceremonial scroll to Brigadier Mike Griffiths CBE at a ceremony in Ormskirk on 22 October.
Troops will then march through the town centre with the regiment's band.
The freedom means the soldiers will be entitled to march through the town with "swords drawn, bayonets fixed, drums beating and colours flying".
Councillor Bailey said: "The people of West Lancashire are enormously proud of the efforts made by our brave armed forces around the world.
"This is a gesture the council and local community can make to our troops and in particular our local regiment, which has many soldiers from West Lancashire and the surrounding area."
Colonel Martin Amlôt, the Regimental Secretary, said: "The Duke of Lancaster's Regiment is very moved by the obviously genuine affection and esteem in which it is held by the people of West Lancashire.
"I am glad to be able to say to the people of West Lancashire and the council how very grateful we are for this most significant recognition.
"We will do our best to live up to the honour in the future."
Related Internet Links
The BBC is not responsible for the content of external sites.