Holy graffiti on changing room wall draws Preston crowd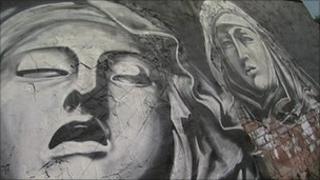 A piece of graffiti that appeared overnight on the outside of a changing room in a Preston park has been drawing crowds of admirers.
The mural in Avenham Park, created by a mystery spray painter, is believed to depict Saint Teresa, who lived in the 16th century.
Local art dealer Brian Beck said it looks as though it is inspired by the 17th century Bernini sculpture entitled 'The ecstasy of St Teresa', which is housed in a church in Rome.
Martyn Halsall, a spokesman for the Diocese of Blackburn, said: "It is a piece of provocation as all street art is and in the right sense of the word.
"Good art does provoke and I hope people will think about where they are in this picture."