Copper cabling worth £2,000 seized in Lancashire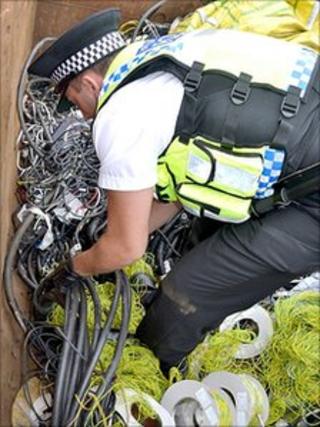 Copper cabling worth about £2,000 has been seized by police cracking down on metal thieves in Lancashire.
The 60kg (132lb) of cabling was found when officers visited two scrap metal yards in Blackburn and Great Harwood.
Officers from Lancashire Constabulary and British Transport Police believe it was stolen from British Telecom in the Fishmoor area of Blackburn.
The cabling will now be subject to an investigation by Blackburn police working with British Telecom.
Anyone with information is being urged to contact police.
Sgt James Black said: "It is a fairly large amount and our enquiries continue to find out who was responsible.
"People often think the theft of scrap metal is a victimless crime when in fact it can cause more financial problems due to the damage caused after the initial theft.
"Items such as copper piping, lead flashing and boilers are a popular target for thieves.
"People should be reassured that the police treat these crimes very seriously - those responsible can expect to receive prison sentences."