Penwortham St. Mary's £600,000 refurbishment complete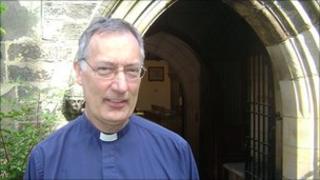 A historic church in Penwortham is hoping to become the centre of community life after a £600,000 renovation to upgrade its facilities.
During the refurbishment of Penwortham St. Mary's, developers had to overcome subsidence and a Victorian heating system that was flooding the church.
Now the church offers modern worship facilities, a play area, a performance space and rooms for local meetings.
Every penny for the refurbishment was raised by local people.
They are still anxious to raise more to improve the building.
The Reverend Chris Nelson, vicar at Penwortham St. Mary's, first arrived at the church 10 years ago. He said: "I found a church that was Victorian with lots of pews and lots of wood.
Medieval times
"But I also found a church that wanted to go forward and change because it was faced with a downward spiral. So we set about adapting the church to make it right for now."
The Grade II listed church is built on a site that has been used for Christian worship for over 1,000 years, with parts of the current building dating back to medieval times.
In 2006 it became obvious the church needed an upgrade.
"Our floor was sinking," Mr Nelson said. "It was giving way and everything felt wobbly. It got progressively worse.
"As pews began to sink, our heating boiler was also losing gallons of water which were going under the floor. We found we needed a completely new system fit for the 21st Century."
The most startling discovery was made when officials from the county's archaeological office assessed the work they would permit to be undertaken on this historic site.
"They found hundreds and hundreds of dead bodies - underneath the church is a graveyard. Although there are no accurate records of what happened on the site from before 1856, historians believe there has been a church here since about 600 AD."
As parishioners moved out to worship in their church hall on Cop Lane in Penwortham, work began on creating a modern day church for them to return to.
"Bodies can't be desecrated," Mr Nelson said, "so we have left most of them where they were buried. However, we did move some bodies to three crypts we have in the church."
The most contentious issue of all amongst the parishioners was the thorny subject of pews. Many of them had used the same pews for years and wanted it to stay that way.
New vision
"You can do almost anything in a church except move a pew. But what is a pew?" Mr Nelson asked.
"People outside of the church don't have the same understanding of what a pew is. To them, it is a wooden bench that is uncomfortable to sit on. Now, we have the same style of seating as Canterbury Cathedral which was designed by a man who was determined to create a chair that was comfortable to sit on."
Today's Penwortham St. Mary's church has a modern feel without losing its ancient history. It has been re-decorated and brightly lit. It boasts adaptability for both worship in the round and performance.
There's a play area for youngsters, a music group housed in one corner and an airy feel where once it was dark and less inviting.
This is only the beginning of their vision.
"We have already had concerts in the church and the local MP was so impressed that she wants to hold her surgeries here," said Mr Nelson.
Now the church has launched a series of open church days to show off their new vision and hopefully engage people to want to make more of the church close to the banks of the River Ribble.
"The open church days are each Thursday. People can come in at their leisure. There are parishioners here who will describe what the church has to offer. Not simply about the history, but also what we are about today.
"Then the visitors can have a look around without being pressurised to do anything."
Joe Wilson presents the faith programme on BBC Radio Lancashire from 06:00 each Sunday.