Asian foster carer's rewarding career with Blackburn children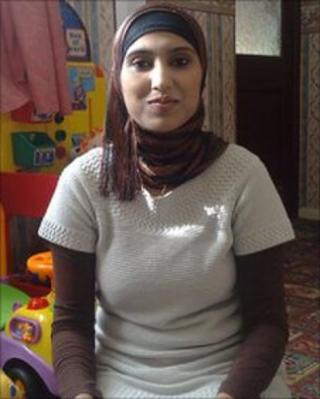 "I wanted to make a difference to children's lives."
That is what inspired Farzana Panchabhaya from Blackburn, to become a foster carer six months ago.
She is one of about 2,000 Asian foster carers in England, looking after 3,200 children who need a home.
It is a figure that has risen by 50% in the past five years, according to government statistics.
Mrs Panchabhaya said she felt compelled to become involved after seeing others do the same.
She said: "I used to work at a children's centre and I used to see other foster carers bringing in children.
"Over a couple of months you see the difference those carers have brought into the children's lives, and that inspired me."
While there is a shortage of Asian carers in the UK, Blackburn with Darwen Borough Council has been doing its best to recruit more foster carers from ethnic minority backgrounds.
Councillor Maureen Bateson, who is responsible for children's services at the council, hopes more people will now take up the challenge.
Some negativity
She said: "There's a growing Asian population and the trend suggests there'll be an increased demand. It doesn't matter about your background, your race, colour, religion, it's about coming to talk to us."
But Khush Green from the Independent Asian Fostering Bureau says there is still some negativity attached to fostering in the Asian community.
She said: "The attitude can be 'why do you want to get into someone else's business, this is going to be very difficult' but on the other hand, when they're doing it it, people are like 'wow, that's amazing, you're doing something really fantastic'."
"It's a matter of education."
Mrs Panchabhaya says she has got a lot out of the experience.
"It is really rewarding to notice a change in those children.
"It's also good for your family, because my children are experiencing fostering as well. They've never seen this side of life before, that there are vulnerable children.
"There could be a number of reasons why the children come to you, it could be physical abuse, sexual abuse, emotional abuse or neglect, but they're just children at the end of the day, that need love, care and support."