Cricketer James Anderson to be given freedom of Burnley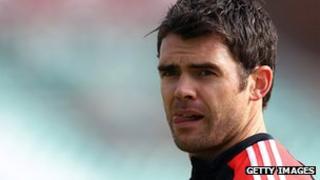 Lancashire and England cricketer James Anderson is being given the freedom of Burnley.
The 29-year-old, nicknamed the "Burnley Express" said he was delighted to get the honour of freeman in his home town.
The fast bowler is being honoured in recognition of his "outstanding services to cricket".
Mayor of Burnley David Heginbotham said: "He's a great ambassador for Burnley."
He will become the youngest of 23 recipients of the title on 8 December at Burnley Town Hall.
Anderson was born in Burnley and attended St Theodore's RC High School.
He began playing for Burnley Cricket Club in the Lancashire League and quickly became a Lancashire County Cricket Club and England star.
His test debut was against Zimbabwe at Lord's in 2003. During England's last Ashes tour of Australia he took 24 wickets in the 3-1 series victory and was recognised as one of England's best performers of the tour.
Anderson said: "I'm honoured to be receiving the Freedom of the Borough.
"I grew up playing cricket for the local club and still have strong ties to the area.
"As a Burnley lad, born and bred, it also means a great deal to my family."