Barnoldswick shops boarded up over Tesco plans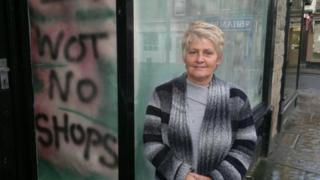 Shop-owners on a Lancashire high street have boarded up their store fronts to demonstrate the impact they say a Tesco development will have.
The supermarket chain has submitted final plans for the store in Barnoldswick to Pendle Council.
Mary Akrigg, who owns Shu shoe shop in the town, said: "This will be the final nail in the coffin for us."
However, Tesco's corporate affairs manager Matthew Magee said businesses would benefit from the store.
'Collateral damage'
Mr Magee said: "Research shows about 80% of Barnoldswick people leave the town to do their local weekly shop - so actually all the trade is going to Colne or Skipton, which equates to £26m a year going outside of the town.
"If we can put a supermarket in the town that will stop a cork on that and stop that leakage of trade away from the town, because they will use our store and people will use the other stores, too."
But Ms Akrigg said: "This will kill us.
"Takings are already way down because they have been sending out leaflets to local schools who we supply uniforms for and selling them online and they haven't even opened up in town yet."
Florist Gail Usher said: "Not all businesses will be affected but those businesses left will suffer collateral damage as shoppers and visitors decline due to lack of interest.
"Let's face it, what pleasure is there in visiting a town with half shops boarded up?"