Lancashire and Salford schools' Olympic Relay of Prayer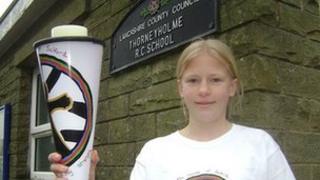 A small school in the Ribble Valley has been the launch pad for an Olympic torch-style Relay of Prayer.
The relay will take seven months and sees the torch visit all 210 schools in the Roman Catholic Salford Diocese.
Twenty-seven students from Thorneyholme Primary School in Dunsop Bridge took the first leg of the 449 mile (722km) journey to the next school in Chipping.
The torch will finally be welcomed into Salford Cathedral by the Bishop of Salford on Friday 6 July.
The relay is designed for pupils to study and pray for all the countries taking part in the forthcoming Olympic and Paralympic Games.
The Bishop of Salford, the Right Reverend Terence Brain, who was guest of honour at the launch, said: "I think it's a great idea and it's great that every one of the schools in the diocese is taking part."
'Catholic family'
The Relay of Prayer has been months in the planning with each school being randomly allocated a different participating country.
The students research their allocated country, travel by whatever mode of transport they fancy and deliver an assembly to the next school along the chain.
Organiser Father Paul Cannon said the relay epitomised the various schools in the diocese striving to be seen as one.
He said: "It's showing the network of schools as a Catholic family of schools. It gives the pupils the chance to look at other countries and discover other faiths.
"They are also involved in prayer for the different countries in the Olympics and Paralympics."
Thorneyholme School were allocated North Korea. Head teacher Sarah Healey said everyone at the school relished their task of researching one of the most private countries in the world.
She said: "The teachers and the children all got on the internet and we found out a little bit about the population, the currency, the national anthem and the food. You can't learn an awful lot but we found what we could."
The pupils from Thorneyholme had elected to celebrate their rural location by using a tractor to travel the eight mile trip to St Mary's in Chipping where they will deliver their North Korean assembly.
They then handed on the electronic torch that has been specially designed to overcome the winter weather.
Joe Wilson presents the faith programme on BBC Radio Lancashire from 06:00 each Sunday.