North West TB cases 'highest in Blackburn'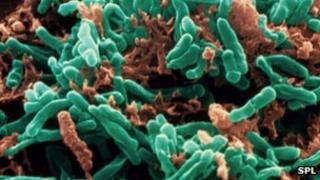 Blackburn had more new cases of tuberculosis than anywhere else in the North West last year, it has emerged.
Figures released by the Health Protection Agency (HPA) show there were 828 cases of TB in the region, with 80 of those in Blackburn with Darwen.
The report said that represented 57.2 cases per 100,000 of population.
Manchester had 197 new cases of TB, but as the population is higher, this figure translates as 40.7 cases per 100,000.
The HPA said new cases in the North West had increased slightly compared to 2009, but nationally they had decreased by nearly 5%.
Across the UK 8,483 new cases of TB were reported in 2010 - a decrease on the 2009 figure of 9,040 cases.
TB is an infectious bacterial disease of the lungs, causing symptoms such as coughing, chest pains and weight loss.
The HPA said those most at risk are people in deprived areas, or those with family links to countries with high TB rates.
It is treatable with a six-month course of antibiotics, but patients who do not complete the full course of treatment risk developing a drug-resistant form of the infection.
Dr Marko Petrovic, the HPA's TB lead for the North West, said: "We are working hard with colleagues from the NHS, the charity TB Alert and other partners to increase awareness of TB infection and its symptoms.
"Anyone who thinks they may have symptoms of TB should seek medical advice as soon as possible."