Stab victim Susan Workman 'embellished her diary'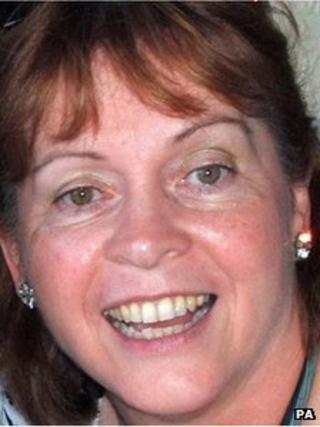 The ex-wife of a millionaire "embellished" a final diary entry just before she was fatally stabbed at her home in Lancashire, a court heard.
Susan Workman wrote about a row she had with ex-husband Ian on her laptop at home in Plantation Road, Turton.
Preston Crown Court heard Ian Workman, 58, stabbed her as they rowed about money following their divorce.
Mr Workman, who denies murder, told the court his ex-wife had changed things in her diary to show him "in a bad light".
He also told the court Mrs Workman, 51, came at him with the knife.
'A bad light'
The jury heard Mrs Workman wrote: "Ian has come in 13:17 shouting at me: 'I will pay for what I'm doing, I will not win.'
"He is upstairs now, taking I do not know what but hopefully I will see when he is coming downstairs."
Mrs Workman also wrote that her husband swore and shouted at her before writing her final entry, which read: "Standing, staring at me acro..."
Mr Workman denied he was in the room when she typed her last sentence and said he did not swear, but he agreed that her description of their final conversation had accuracies.
He told the court his former wife of 34 years had embellished "other things" previously to make him look bad.
Freezing assets
He said she had told their sons not to believe him if he said he had no money as he had a Swiss bank account which she believed meant he must have millions of pounds.
The jury was told that in May 2010 Mrs Workman secured the freezing of her husband's assets which only allowed him access to fund his legal fees and living and business expenses.
Their divorce became final in December 2010 and at the final court hearing before her death Mrs Workman applied for their house at Nursery Old Farm to be transferred into her name, the court was told.
No agreement was made and another hearing was set for May this year.
The prosecution told the court Mr Workman called round to the house on 7 April to offer her a "very low settlement" before a row led to him attacking her.
The trial continues.