Police hunt catalytic converter thieves in Preston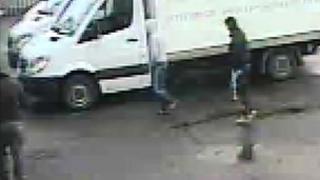 Police in Lancashire are hunting a gang of men who have been stealing catalytic converters from vans in Preston.
Mercedes Sprinter Vans have been repeatedly targeted at industrial estates around Longridge Road and Caxton Road over the past week.
There have been four reported incidents and in each case the offenders have used the same method to steal the converters.
Det Sgt Paul Whitehead said it was clear the offenders were "skilled".
Police said the first theft took place at Ramsey Healthcare on Roman Way, off Longridge Road between 16:25 GMT and 16:45 last Saturday when two converters were stolen.
They are looking for a black Vauxhall Meriva, Zafira or Ford Fusion-type vehicle that was seen the area around the time of the offence.
They are also looking for three men seen entering the compound.
On Monday, a catalytic converter and satellite navigation system were stolen from Oncore Food on Millennium Road, off Longridge Road at 22:00.
The other offences took place at Geopost UK Ltd on Millennium Road off Longridge Road between 18:00 on Monday and 07:00 on Tuesday and at Home Insulation Services on Caxton Road between 17:00 on Wednesday and 07:00 on Thursday.