William Hartley jailed for Barbara Haynes burglary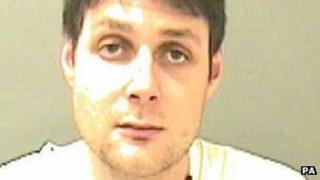 A burglar whose 86-year-old victim suffered a suspected heart attack weeks after the break-in has been jailed for 16 months.
Barbara Haynes, from Wheatfield Court, Lancaster, died eight weeks after William Hartley climbed through a window of her home on 15 February.
Hartley, of Sun Street, Lancaster, had pleaded guilty to the burglary at a previous hearing.
Preston Crown Court was told Mrs Haynes was "never the same" after the raid.
She had alerted police by pulling an emergency cord and Hartley fled empty-handed but the pensioner later felt unwell and had to be taken to hospital.
Fingerprints on the window of her home in Wheatfield Court were traced to the defendant who was arrested and told officers he had been out drinking and had taken valium.
He then committed a public order offence while on bail and assaulted his girlfriend, the court heard.
David Traynor, prosecuting, said Mrs Haynes had been woken in her bedroom by Hartley who had been standing on the window sill.
When later interviewed by police, she said that although she was "a woman who did not scare easily", she had been "very frightened".
'Appeared slower'
Mr Traynor said: "Her daughter says that in her opinion her mother was never the same after the break-in.
"She was worried about returning home and that the defendant would attend again.
"After the incident she appeared to be slower and more frail."
Chris Hudson, defending, said it was "a tragic offence" and the victim would "undoubtedly have been petrified" but added it had also been a tragedy for Hartley and his family.
Mr Hudson said Hartley's parents had separated in his mid-teens, which later led him to turn to drink and drugs.
He continued to be supported by his girlfriend despite admitting an offence of battery against her. He is due to be sentenced for the attack on Wednesday.
Mr Hartley's father, Graham, gave evidence saying his son had two loving parents but had "struggled in the last few years".
However, Judge Wright ruled that jail was the only option for "a young man who clearly has problems".
In a statement, Mrs Haynes's daughter Marjorie said: "Mum was a very gentle, caring person but, at the same time, she had a strong independent spirit and was determined to remain in her own home despite increasingly poor health.
"Mum was at the very centre of our family; we all miss her very much and are sad that the break-in caused her so much fear and anxiety."