Family fear new Robert Lund appeal over wife's killing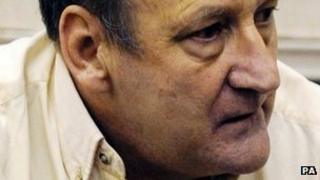 The family of a woman whose body was found in a French lake say they hope her killer will not try another appeal.
A third trial convicted Robert Lund on Friday of killing his wife Evelyn, 52, whose remains were found in Lake Bancalie, southern France, in 2001.
Mrs Lund's brother Gerard Wilkinson said the family's relief had been short-lived after the result when they heard Lund might appeal again.
Lund is due to meet his lawyer this week to discuss a possible appeal.
'Almost immediately'
The 59-year-old was first convicted in Albi, in the Tarn area of France, in 2007.
The former tree surgeon was retried in 2009 and jailed for 12 years for a charge similar to manslaughter.
His appeal last week was against the verdict of his first retrial on a legal point and he stood to receive a pay-out from his late wife's life insurance if successful.
"We experienced a sense of relief for a very, very short time," said Mr Wilkinson, 46.
"Almost immediately we understand Mr Lund told his lawyers that he wished to get this third verdict overturned."
He added that the family hoped they would not have to go through a fourth.
'Very clear message'
Mr Wilkinson said in the first retrial there had been some procedural problems which had created an opportunity for an appeal.
But he added: "This time nobody can see there has been any variation in the way the case has been conducted and we can't see any grounds for appeal that Mr Lund could claim."
Mr Wilkinson said every time the jury had been briefed in each of the three trials they were reminded that the French judicial system believes it is better that a guilty man goes free rather than an innocent man is convicted.
"The fact that three separate juries have said Mr Lund is guilty delivers a very clear message," said Mr Wilkinson.