Man arrested over Lancaster cannabis factory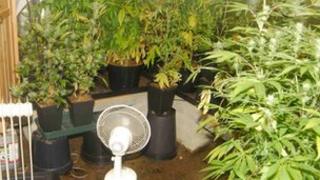 A 31-year-old man has been arrested after police discovered a cannabis factory in the cellar of a house in Lancaster.
Officers raided the property on Derby Road on Thursday after a complaint of a smell coming from the property.
Fifty cannabis plants estimated to be worth £20,000 were seized in the drugs raid by Lancashire Police.
The man has been released on bail pending further inquiries.
Insp Sheralee Duckworth said it was a member of the public's observation which led to the discovery of the cannabis factory.
She said: "This highlights the importance of people alerting us to any suspicions they may have about drugs and drug dealing in their neighbourhoods."
In a separate raid, cannabis plants estimated to be worth £12,800 were also seized from a house in Preston after residents reported a smell and suspicious activity.
Thirty two plants along with a lighting and hydroponic set-up were found in the bedroom of a property in Hopwood Street.
No arrests have been made.