CCTV released over Blackburn abduction case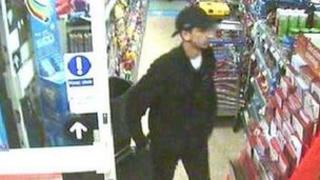 CCTV images of a man wanted over the abduction of two men in Lancashire have been released by police.
The victims, aged 19 and 20, were attacked in Sandwich Close, Blackburn, and driven around the county during a two-hour ordeal on 2 December.
Police believe the people responsible could be in East Lancashire or Manchester and are appealing to anyone with information to contact them.
A 19-year-old man has been charged with two counts of false imprisonment.
The two men were parked on Sandwich Close in Blackburn in a silver Honda Accord when they were attacked at about 21:00 GMT.
Two cars pulled up beside them and two men got out, dragged the men out of their car and handcuffed them.
They were forced into one of the cars and assaulted several times, before being let out in Shadsworth Road.
Police said while in the car, a silver Vauxhall Meriva, they were driven around Blackburn, Haslingden and Rochdale for about two hours.
They suffered bruising and were taken to hospital to be treated for their injuries but were later released.