Four arrests at Lancaster hotel occupied by squatters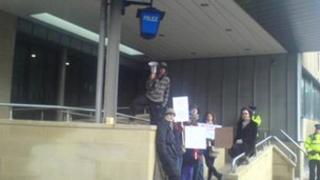 Four people squatting at a disused Lancashire hotel have been arrested on suspicion of causing criminal damage.
Police officers were called to the Railton Hotel in Lancaster on Sunday at about 16:00 GMT following reports of a break in.
Two men from Lancaster aged 30 and 48, a man, also 48, from Morecambe, and a woman, 28, from Lancaster, have been arrested.
Occupy Lancaster was in the hotel claiming squatters' rights.
Protesters allege the police acted unlawfully in breaking into the hotel and say they may file a complaint to the Independent Police Complaints Commission.
One of the protesters, called Will, said: "Under Section 6 [of the Criminal Law Act 1977] if squatting in an unused building people have certain rights that have to be respected. By entering violently - by breaking the door down - they broke their own laws."
Lancashire Police said: "Arrests were made in connection with criminal damage."
Twenty-five people staged what the police described as a "peaceful protest" at a police station in Thurnham Street following the incident. A small group remain outside the station.
One who identified herself as Vicky said: "We want our friends released.
"We want to draw attention to the fact they've been, as far as we are concerned... unlawfully held."
She added: "We want the matter resolved as soon as possible."
Occupy Lancaster is protesting about the banking system and the way it affects ordinary people.
The group camped in Dalton Square in the city in November, after the public sector strike, and stayed until 24 December.