Freckleton house fire: Smoke alarms not working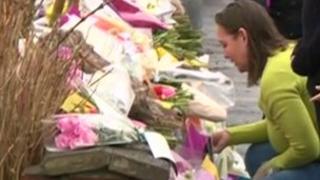 Initial investigations into a house fire which killed four siblings suggest the Lancashire property did not have working smoke alarms.
Reece Smith, 19, twins Holly and Ella, aged four and Jordan, two, died in the blaze at a converted bungalow in Lytham Road, Freckleton, on Saturday.
Post-mortem tests found they died from the effects of breathing in smoke.
Their mother Michelle Smith, who was led out of the house by firefighters, visited the scene on Tuesday.
The 36-year-old mother-of-nine also attended a candlelit vigil for the four victims at St John the Divine Church in the nearby town of Lytham, where the family had lived until recently.
'Utter despair'
The Reverend Jack Wixon said the church would be "keeping an eye on the family".
It is understood Ms Smith's 16-year-old son Andrew had tried to rescue his younger siblings, along with Reece, but was beaten back by the fire.
Simon Bone, community protection manager for Lancashire Fire and Rescue, said: "There were smoke detectors in the premises. Early indications indicate they weren't operative."
He said the investigation suggested the fire had started in a wardrobe in one of the attic bedrooms where the victims were found.
A spokeswoman for Lancashire Police said post-mortem investigations were carried out by a Home Office pathologist on Monday and revealed the victims died as a result of breathing in smoke.
She added that a joint police and fire service investigation into the cause was continuing.
Ms Smith's father, Keith Smith, 56, said his daughter was now staying with relatives in the area.
Parish councillor Tommy Threllfall said the tragedy had been "met with utter despair" in Freckleton.