L/Cpl Jordan Bancroft repayment: Review by MoD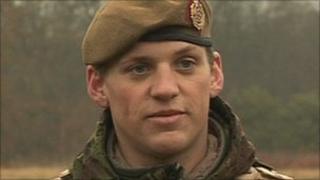 A review is under way into the treatment of a dead soldier's parents who were asked to pay back an overpayment made to their son.
L/Cpl Jordan Bancroft, 25, from Earby, Lancashire, died in August 2010 while on duty in Afghanistan.
His family was then sent a letter telling them he had been paid a month in advance and they had to repay £433.
The Ministry of Defence (MoD) has said it "deeply regrets any unintended insensitivity".
The family has since been told the £433 will be recouped from a payment of £1,493.04 for leave not taken by L/Cpl Bancroft.
His family previously said the way they had been treated was "disgusted".
Andrew Robathan, the minister for defence personnel, said a complete review was now being carried out into what happened.
He said it was policy never to ask the families of those killed in service to repay money.
Mr Robathan said: "We do not collect any money from the families of deceased personnel, but adjust future payments to ensure families receive all the money to which they are entitled."
L/Cpl Bancroft, from 1st Battalion The Duke of Lancaster's Regiment, was shot dead while protecting a meeting between local elders and troops in Helmand Province. He had been planning to marry his girlfriend Lauren O'Hara after his tour in Afghanistan.
At his funeral, his commanding officer Lt Col Frazer Lawrence described the soldier as a "lion of England".
Following his death, his family raised thousands of pounds for the Duke of Lancaster's Regiment.