Freckleton fire: Thousands of alarms and checks after blaze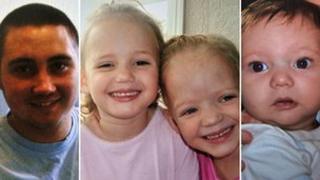 Almost 11,000 smoke alarms and fire safety checks were carried out by Lancashire Fire Service in a single day, in the wake of a blaze which killed four siblings.
Reece Smith, 19, four-year-old twins Holly and Ella Smith and two-year-old Jordan Smith died in the fire in Freckleton on 7 January.
It later emerged the house had smoke alarms but they were not working.
Lancashire fire stations opened their doors on Saturday.
At times, people were queuing for smoke alarms, Lancashire Fire and Rescue said.
'Overwhelming success'
Firefighters and community fire safety staff were also at supermarkets, shopping centres and football grounds to offer fire safety advice and smoke alarms.
Lancashire chief fire officer Peter Holland said: "Saturday was an overwhelming success for Lancashire Fire and Rescue Service.
"Only in the early hours of Saturday morning were we reminded of the importance of smoke alarms - in South Shore, a man had fallen asleep on his sofa whilst cooking and he only woke up as his smoke alarm activated.
"Without the alarm, the situation for him and his mother could have been a lot more serious.
"We urge the people who picked up a smoke alarm on Saturday to ensure that the alarm has now been fitted correctly and that it is tested weekly.
"If anyone missed out on a free smoke alarm, they can still pick one up via our free home fire safety check."
Eighteen-year-old Dyson Allen was arrested earlier this month on suspicion of murder in connection with the fire. He has been bailed, pending further inquiries.