Sir Alex Ferguson buys Accrington Stanley share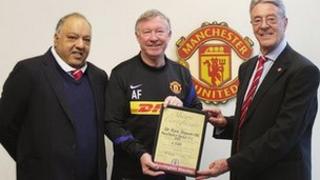 A football club's attempt to secure its financial future has been boosted after one of the game's most famous figures became its latest shareholder.
Accrington Stanley, who play in League Two, welcomed Sir Alex Ferguson as the 500th investor after the Manchester United manager bought a share.
Chief Executive Rob Heys said he was "extremely grateful" for Sir Alex's investment of £100.
"We are not only honoured, but truly touched by his support," he said.
Sir Alex said he was "so pleased to see a small community club flourishing during these times".
"Long may they continue to be an active and healthy member of the Football League," he said.
Along with his share certificate, Sir Alex was also presented with a retro-style Accrington Stanley football and a commemorative book about the club's links with Scotland by club director Peter Shaw and senior non-executive Idris Khan.
The successful Accrington Stanley side of the 1950s included 11 Scottish players.
The club's directors have been trying to sell shares across the world since October 2011 in an attempt to give the club financial security.
Shares have been sold both to local fans and to investors in Canada, Brazil, Finland, Australia and the US.
Mr Heys said everyone at Accrington was "looking forward to welcoming [Sir Alex] to our next AGM, where he'll receive one vote as an official shareholder".
Accrington Stanley became the second Football League club in the history of the league to resign mid-season after it went into liquidation in 1966.
A second club was formed in 1968 and regained league status in 2006.
The club has faced financial problems over recent seasons, including the threat of being wound up in 2009 over unpaid debts to HM Revenue and Customs and being unable to pay players in March 2011.