Air ambulance damaged by vandals in Lancaster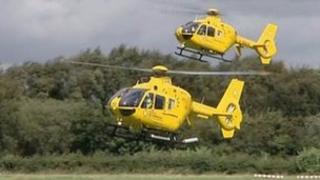 A helicopter used by the North West Air Ambulance has had a window smashed by vandals in Lancaster.
It happened at the Vale of Lune Rugby Club, where the aircraft had landed to treat a patient on Saturday.
After treating the man, the helicopter developed a fault and was unable to leave the scene, with crews being forced to leave it there overnight.
A security guard saw a number of youths running from the craft on Sunday and noticed a side window had been smashed.
The incident happened between 07:00 and 07:30 GMT.
Lynda Brislin, chief executive of the charity, said it could have put lives in danger.
She said: "Although this mindless act of vandalism cost the charity money, our primary concern is that the air ambulance was not in operation for a day.
"Although thankfully, we were able to rely on our other helicopter - the consequences could have been much greater than just a broken window.
"We rely on the support and kindness of the general public to allow us to operate, which is why I would urge anyone who has any information about this to get in touch with the police."
The North West Air Ambulance has two helicopters which are based at Blackpool Airport and City Airport, Manchester.